Zahner ShopFloor introduces ImageWall — the first tool to design, price, and purchase user-uploaded imagery.
Earlier this year, we unveiled ShopFloor, a free platform that provides an all-in-one solution to design and ship custom facades. Today we're launching ImageWall, the second app for ShopFloor and the first tool to offer architects a way to visualize their images as perforated metal.
Before ImageWall, designers would often use photo-editing software to visualize perforations, which is slower and doesn't provide the connection to constructability or pricing. Using ImageWall, designers upload an image and it instantly translates into a panelized array of holes with varying sizes. In addition to uploading images, users can also drag-and-drop attractor points to control perforations by hand.
Users see the price update continuously while making adjustments to their design. Transparent pricing means that designers can quickly test ideas within a budget, use their design to approach clients, and bring their projects to fruition.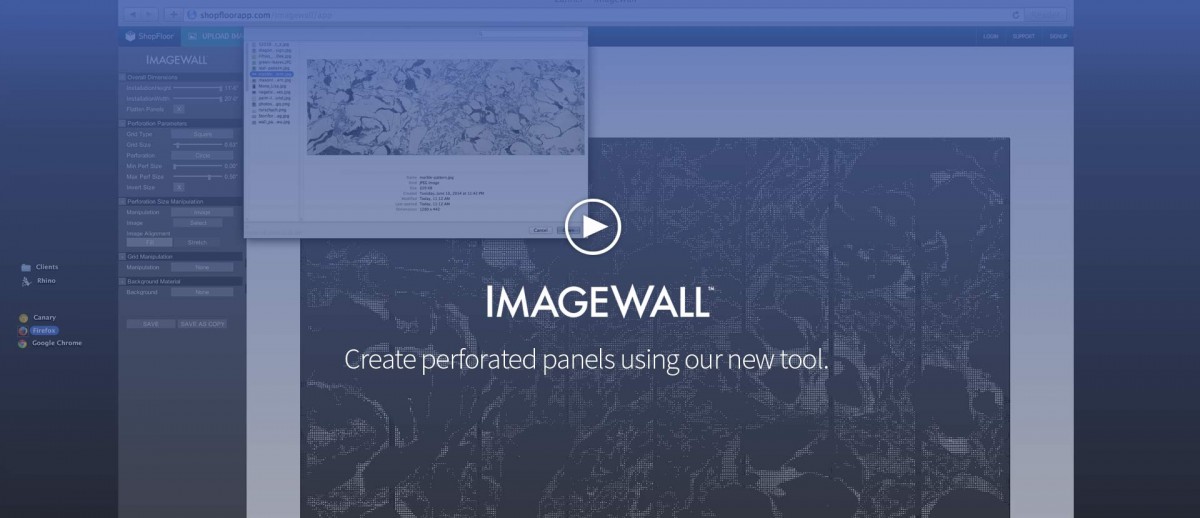 "The most exciting aspect of ImageWall is how quickly you can pop your image in and instantly see it on metal. Architects have never before been able to so quickly visualize this aspect of design. We're entering into a new era for ZIRA." — CEO/President L. William Zahner.
With ImageWall, new 3D representations are displayed automatically in less than 2 seconds. For an aesthetic that is notoriously difficult to model, this generative capability in a free web-app is unprecedented.
Sign up at imagewall.com