The New Facade for Petersen Museum Nears Completion
Zahner ships the final "ribbon" assembly to be installed on the Petersen Automotive Museum facade in Los Angeles, California.
Update: The Petersen Museum was finished on-time, under-budget, and ahead-of-schedule. The building opened to the public December 7, 2015, to great fanfare. See the finished building at the project page for the Petersen Automotive Museum, where you can view completed photos and learn more about how the architects realized its complex design.

Last week, Zahner shipped the final structural ZEPPS ribbon assembly from its Kansas City factory to the Peteresen Automotive Museum in Los Angeles, California. The last ribbon was hung on Friday, August 7, 2015 by the Zahner field team.
The final ribbon was shipped from Kansas City, and arrived in Los Angeles where it was cleaned and prepped for hanging by the Zahner team. Zahner field foreman, Jesse Spencer, is leading a team of six field operators (pictured below), who were responsible for hanging each of the ZEPPS ribbons for the Petersen Museum. In all, there are 308 ribbons manufactured, shipped, and installed. Each ribbon is one-of-a-kind and preassembled to attach to the building's anchor-points, and interlock with each of the other ribbons.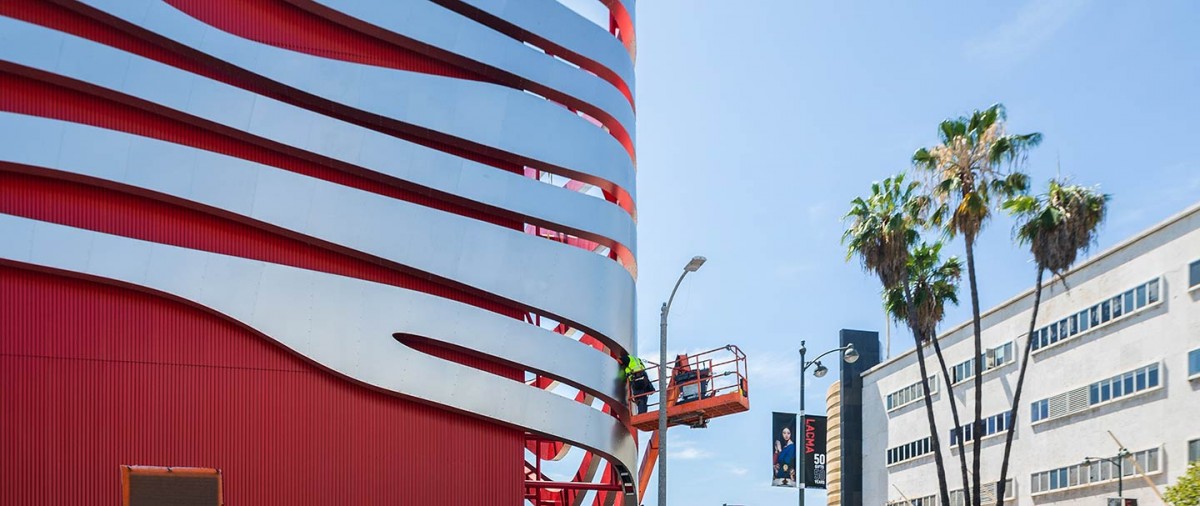 The Team behind the Petersen Automotive Museum.
The Petersen Museum's modernization was designed by Kohn Pedersen Fox (KPF) Associates with local architects House & Robertson Architects, and managed by Walker Real Estate Services, LLC. The Petersen Museum construction is led by Matt Construction who are also responsible for the massive renovations to the existing building's infrastructure, interior, exterior, and upgrades to its roof and patio. Its one of the biggest undertakings an existing museum site has ever undertaken.
Zahner was brought onto the team to engineer and design the curvilinear facade system by Trent Tesch of KPF Associates, who had worked with Zahner previously on the IBM Headquarters in Armonk, New York. KPF's team worked with Zahner to create a mockup during the early stages of the project on the Zahner campus.
The Museum closed for the renovations, and is expected to open in December 2015. Learn more at Petersen.org