New Sculpture and Branding Signage Unveiled for the Kansas City University
Zahner plays a design and manufacturing role in the local school's artistic branding.
The Kansas City University of Medicine and Biosciences has unveiled a new sculpture as part of the school's rebranding and $60 million expansion plan at their downtown campus.
This year marks the centennial of the school's founding, which was established in 1916. As part of the university's update to its brand, Zahner designed, fabricated, and installed a massive sculpture of the staff of Asclepius. The sculpture is mounted on the building's brick wall and includes a backdrop of a purple heart and laurel leaves, representing education and wisdom in academia. The Paseo and Independence Avenue sculpture faces Kansas City's downtown area.
The facade-mounted sculpture was manufactured in Zahner's Kansas City facility, just two blocks from the school's downtown campus. Fiber-optic lighting within the rod and along the fins which back the sculpture creates a deep iridescence in along the metal surface.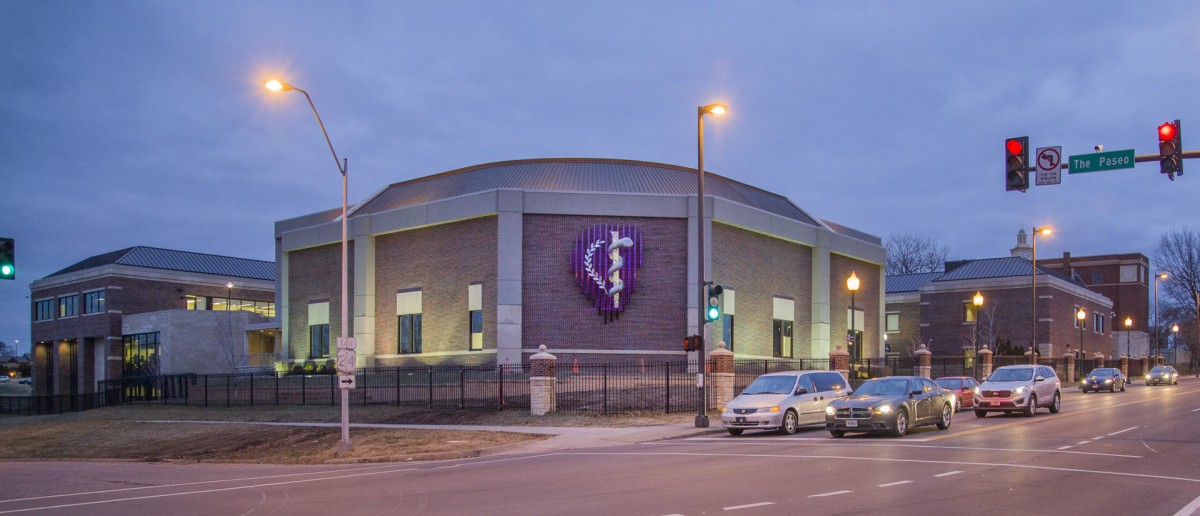 At our January board meeting, KCU unveiled a new sculpture by world-renowned local metal fabricator, A. Zahner Co. The piece, which was installed in conjunction with improvements to the exterior of the Academic Center, is located on the southwest wall facing the prominent intersection of The Paseo and Independence Avenue. Nearly 17 feet tall and 12 feet wide, the structure creates a unique icon for KCU's campus and reinforces the University's continued commitment as an anchor in Kansas City's Northeast neighborhood.
The sculpture is fabricated from stainless steel having a purple light-interference coating and distinctive brushed patterns. The three-dimensional artwork embodies the University's recent rebranding, which features the staff of Asclepius (the serpent-entwined rod associated with medicine and healing originating in Greek mythology) and laurel leaves (representing education and wisdom in academia). Additionally, fiber-optic lighting was designed and installed to create a distinct color-rendering effect in the evening hours.
The new building and its sculptural icon can be seen at the intersection of The Paseo and Independence Avenue. The school issued a release describing the recent acquisition.