Photographs from the Hyatt Skywalk Memorial Dedication
Kansas City community gathers for the Skywalk Memorial.
This morning, members of the Kansas City community gathered to dedicate the Skywalk Memorial, which commemorates the skywalk collapse at the Hyatt Regency Hotel thirty-four years ago.
Zahner donated in-kind services for the construction of this memorial. As an engineering design consultancy as well as a fabrication and manufacturing plant, this is close to heart.
The project is also personal to the artist who designed the sculpture, Kansas City native Rita Blitt. Her fifth-grade elementary school art teacher was injured in the collapse July 17, 1981. Zahner worked with artist Rita Blitt, who entitled the accompanying sculpture, "Sending Love."
The design of the memorial includes the names of the 114 people who died.
"This is a tragedy I think about 365 days a year. I think about it anytime I walk into a public building."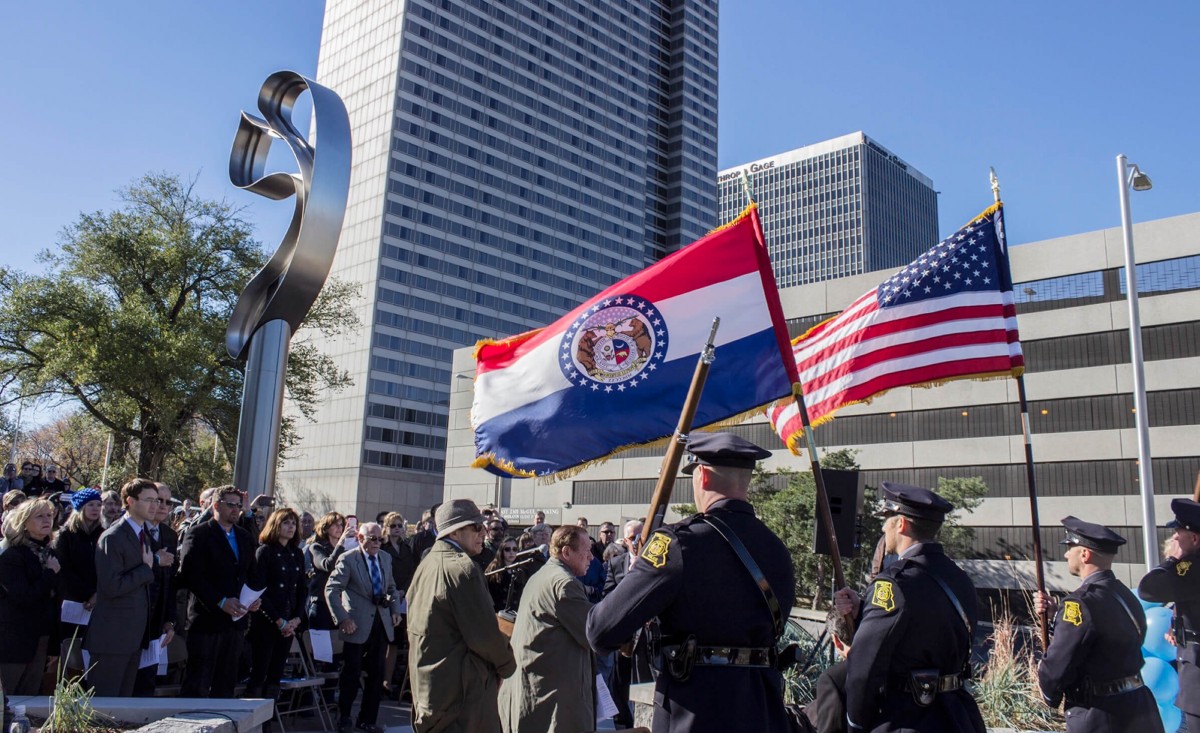 The collapse changed the social responsibility of engineering practice for civil engineers. "Engineering societies need to talk about failures. That's how we learn," says Jack Gillum, who was barred from practice and now educates engineers on the grave responsibility of the engineering practice. "This is a tragedy I think about 365 days a year. I think about it anytime I walk into a public building."
The memorial is not only dedicated to the 114 victims who died, but also to those who spent 14 hours rescuing survivors and the families who lost their loved ones.
On the 24-foot sculpture entitled "Sending Love" are the names of those killed. It is a tribute to those who were dancing beneath the skywalk when it fell. It was also a day to thank those first responders – officers, firefighters and paramedics – some who had never seen such a disaster. During the dedication, names of the victims were read. Family and friends of the victims also spoke at the dedication. Kansas City officials including mayor Sly James were in attendance.
The Skywalk Memorial is located at 22nd street and Gillham road, across from the former Hyatt Regency Hotel. See more images from the dedication on the Zahner Facebook page.