Zahner works with artists and artisans to restore a damaged historic canopy for Commerce Bank in Downtown Kansas City.
In 2013, Commerce Bank's historic canopy at their downtown location on Main Street was damaged by a truck in Kansas City. Zahner received the damaged canopy, which was stored, analyzed, and re-fabricated at the Zahner Headquarters in Kansas City.
Today, the classic canopy and sign are being re-installed. After nearly a year of design consultation, shop drawing iterations, fabrication, employing the help of an artist foundry, a stained glass studio, and a deep-sea exploration manufacturer, the project is finally nearing completion.
Using Design Assist to facilitate Collaborative Restoration
Zahner began the design assist contract by performing inspections of the existing building's structure to identify the scope of work. Through use of digital fabrication, the team was able to reconstruct the 100 year old cast iron canopy using structural aluminum fabricated by the Zahner shop, casting provided by a local foundry, and stained glass from a local artisan.
By collaborating with Wickerson Studios, Zahner was able to exactly replicate the 197 aluminum festoons, tassels, rosettes and trim castings. These were produced using aluminum casting in 3000 pounds of resin sand molds at the Kansas City Art Institute by Michael Wickerson, sculpture chair at KCAI. Two KCAI alumni and one student (Keyan Alemifar, Piers Watson, and Joey Williams) were also involved in the project, and would see the decorative elements from casting, to finishing, to delivery at Zahner's plant.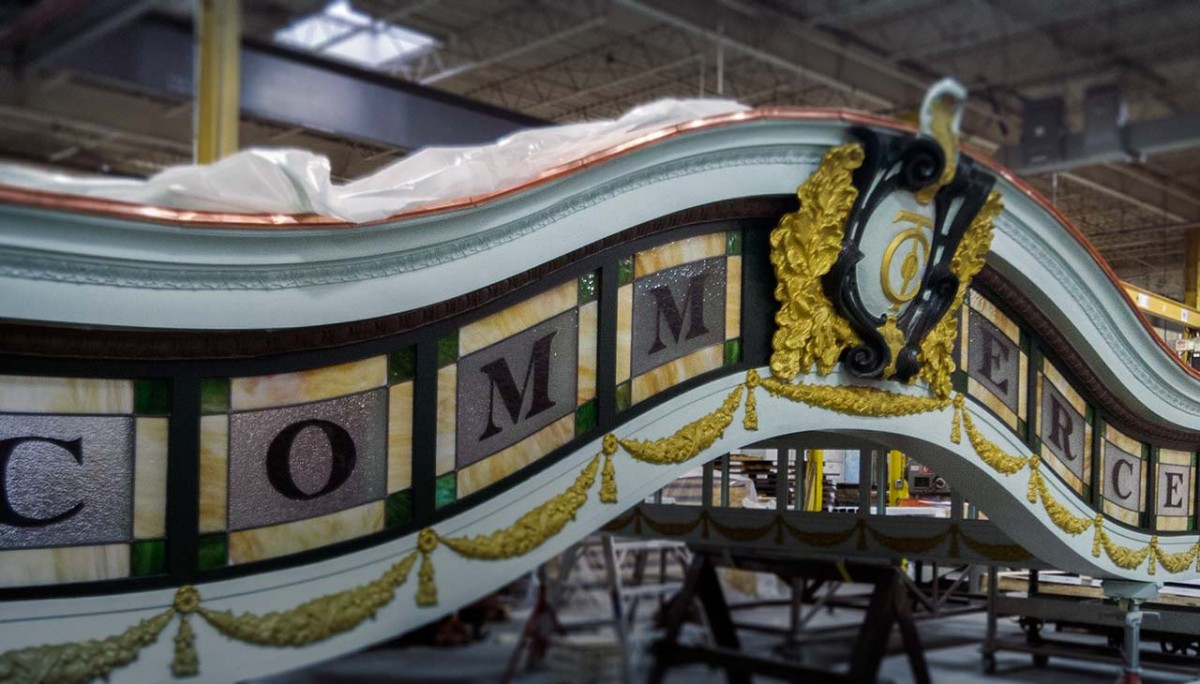 The stained glass components were also sourced using a local artist. Bryan Lewis, a noted stained glass artisan in Kansas City, replicated each piece, referencing the original Tiffany-style pieces and matching the color and hand painted text exactly. Even the chain that ties the canopy back to the building was made using a unique supplier. Zahner purchased the chain from a company that provides chains for marine applications such as boat anchors and apparatuses that reach the ocean floor.
To replace such a unique historic piece, Zahner's design assist services provided a perfect solution. Through connections to the local arts community, we were able to deliver a visually identical and functionally improved canopy was delivered and will last for decades.
The installation is scheduled for completion this week. Visit us again later on or follow Zahner on Twitter to see more updates as the final pieces are installed.