Watch: Cradle of Entrepreneurs
Video and transcript from Interview with L. William Zahner & Crosby Kemper III
Earlier last month, CEO/President L. William (Bill) Zahner spoke with Crosby Kemper III of the Kansas City Library about the process and history of A. Zahner Company in Kansas City.
The event was part of the Kansas City Public Library's Cradle of Entrepreneurs led by their president Crosby Kemper III. The two discussed the value and importance of the people who create the company's work, the transformative architecture which made it, and the philosophy behind the metal. The library provided a screencast live video recording, which has been shared online and can be watched in its entirety on youtube. 
Crosby Kemper III: Ladies and gentleman, thank you all for being here tonight. I'm Crosby Kemper the director of the library. This is part of and a new edition of a regular series that we do. The Kauffman Foundation sponsors the Kansas City Cradle of Entrepreneurs and our basic idea for this series is that there are a lot of really interesting stories about how businesses are built in our community. Most of the businesses that we focus on are pretty well known in the community at this moment. John McDonald of Boulevard Brewery, Danny O'Neal of the Roasterie, and Gale Lozoff of Spin Pizza. Tonight we are doing something a little bit different.
CK: Tonight we're going to talk about a family company that is a hidden story in terms of what they do to the community and, in another way, is not a hidden story at all. They have been involved in building some of the most iconic buildings in Kansas City. In the built environment, they are one of the best known artisans in the world.
I want to introduce you to Bill Zahner of the A. Zahner company.
What I have discovered in reading his books is that he is a philosopher. The people who work with him I am sure know this about Bill. There is a phrase, "The artistry of the surface," in the book. I love that phrase. You quoted Burgermeister of Saxony from the 16th century. "It looks like dull labor to those of us who are outside." It really is an amazing skill set that you've got. Is that how you look at it?
Bill Zahner: Yes. (laughter)
CK: I want you to start off by telling a story. There's a moment in your career — there it is right there (points to projected image), the EMP, Experience Music Project that Frank Gehry designed. (5:50)
BZ: It was a museum originally to Jimmy Hendrix but the Jimmy Hendrix estate did not want to give the name over so they called it the Experience Music Project. It was a crazy project. It was one of these things that changed the company. Frank's people came and challenged our people with this project.
CK: Am I getting this right: there are 21,000 different metal pieces in this project?
BZ: Yes and some that we hid. All made in KC and shipped to Seattle, one time. Paul Allen's people said they needed to get this done quick.
CK: The story I want you to talk about is the moment you show up at this party that they're throwing. (8:09)
BZ: It was at the Comfort Inn in Seattle. We're finally done, and produced this beautiful surface. I tried to get a flight back out to KC and the plane was late so I went back to the hotel. One of my guys calls up and says Frank is on site and the AIA was having a party there and Frank wants you up there. I was worried there was something he didn't like and wanted to change. I was standing in the back and Frank didn't know I was there — and he starts saying, "This building wouldn't be here if it weren't for this one guy and this one company." The next 20 minutes he talks about Zahner and the architects in the back turn to me wondering how much I paid him to say this. I was dumbfounded.
CK: There's another thing you talk about at the beginning of your book and that is about the Damascus Sword, which is a famous Middle Eastern sword that no one has since been able to recreate — a heavily decorated, very strong steel, and with great flexibility. And you talk about that and of course it's exactly what you do today. These amazing curves with great strength. Do you feel like you're recreating some kind of artisanal magic in doing this? (11:53)
BZ: The great part is that once you've done something like this is that you aren't afraid to do a lot of other things. You know the people and the challenge they're up against and we know that we can muster it and accomplish it. The sword being able to produce the fantastic design and the attention to the detail is the most critical thing we have.
CK: Let's go back to the beginning. This is a family company that has been around for four generations, 1897.
BZ: It started actually even before then in Joplin, MO. My great grandfather Andrew Zahner moved up to KC. Andrew started this movement of cornices across the country. It was very Kansas City. I remember looking at the old books and car parts were really popular. It's always interesting to look at the history of the company from when it was regional to really pushing it out to see what we can do further. (15:20)
CK: Through the years, it's always been a metal business but has had its ups and downs. During WWII, your father was away at war and the business was almost sold. Did I get this story correctly? (16:39)
BZ: My grandfather had sent a letter to my father who was in the navy in WWII and said how he was thinking about selling it. My father said no so he would have something to do after his service. He introduced these new products siding and decking and aluminum extrusions. We got into being one of the biggest siding companies in the Midwest.
CK: That was sort of a commodity-type business rather than a custom-type business. You realized that the world was going another way. What was the a-ha moment for you in your career?(19:40)
BZ: One of the first opportunities was on the AT&T building. We were involved in the interior stainless steel work. I was really able to challenge my guys with creating these beautiful stainless steel surfaces. That forced me to learn the material and the different metals. It was what started the first book.
CK: There is another a-ha moment, a friend whispered in my ear that there was a trip to Africa at some point and something you were reading affected you.(21:10)
BZ: Yes, in the early 90s, I was trying to figure where I was in my life. I took off to Africa just to get away. I took a book Gödel, Escher, Bach by Douglas Hofstadter. It was a tough book to read but it introduced to me how a lot of different concepts in life are interwoven. It was my only companion since the airline lost all my clothes and everything else.
CK: You start off in this business of architectural and metal bending. Tell us about the story of when Frank Gehry was your client. (22:40)
BZ: The Building Museum. The sheet metal union wanted to celebrate their 100th anniversary in the late 80s. They go into the Building Museum in DC and nothing had been done in [in] there for a while. I have done about 40 of his projects over the years.
CK: You have worked with most of the major architects now. There is also another moment at the beginning with Antoine Predock working in a building in Wyoming.
BZ: The American Heritage Museum is blackened copper cone-shaped form. His wife is an artist who is working in that blackened copper. He was wanting a building that looked like this black color. We were experimenting with it and were able to produce this blackened surface in Laramie.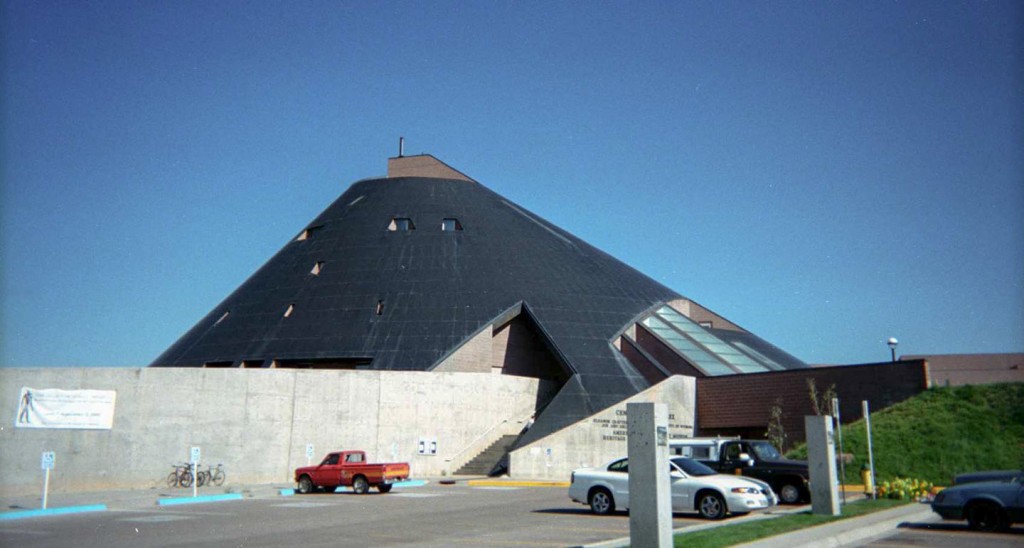 CK: So that was the moment you could play around with the material? (26:36)
BZ: Right. He had then challenged us also on the Museum of Science and Industry in Tampa, this blue stainless steel sphere. I remember this one time down there, going to this celebration of it and he rides down for this opening on this motorcycle. He's a really great guy.
CK: I know sometimes you resist the word, but the artisanship of this and the computer aspect of this thing which is new… How does that all fit together and who does that? (27:56)
BZ: It's really the key to our success. We introduced computer systems and realizing we could communicate with our equipment that made things on our shop floor. The real key is maintaining the human. If you can integrate the workforce on the floor with the high engineered surfaces, you can get some real fantastic pieces.
CK: I love that your clients are always looking for something unique.
BZ: When you walk through a shop, you'll see people that take a whole lot of pride in what they do. If we can keep that culture, they'll tell that to the young people that are coming in. (29:54)
CK: You have a very strong union labor force and they actually like you.
BZ: — Today (laughter). One thing my father left me with was that you treat people with respect and dignity. He was more union than many union guys I know. I'd like to think I found I can go anywhere in the world and compete with our people. When you talked about that a-ha moment early in my career, I did a little bit of traveling to Hong Kong where we're doing this piece of art and I looked around at all this fantastic work. I wanted to be just as good as those guys in my lifetime. And today, I think we're even better. (33:00)
CK: Quality is what you're known for. You were telling me you weren't the lowest bidder in Jakarta but the quality is what got you the project.
BZ: In Jakarta, the Chinese manufacturers were more economical than us but the owner had my book and knew that we knew what we were doing.
CK: Not every patron is as easy as that. Michael Eisner that you worked with, you built part of Disney World.
BZ: Tomorrow Land. Eisner had this place here, and he didn't like that people could walk up the stairs and look into his 5,000 sq. ft. studio. So he had us put up copper leaves.
CK: One of the iconic buildings, somewhat local, the Community of Christ Temple with the spiral. Tell me a little about that.
BZ: That was a lot of fun. Early on, I got a phone call from Gyo's office to come to a meeting in St. Louis. I go there and walk into this conference room with all these seashells on the table. And I am thinking I am in the wrong meeting (laugther). Gyo Obata picks up a conk shell and said they wanted to make a roof like this. I told him fantastic. That's where we first started to create this fantastic piece.
CK:The belief of the Morman church as well as the reorganized church is that the second coming is essentially on the site of the church, actually right across the street where the reading center is. Did anyone ever talk to you about the theological significance of what you were doing? (48:01)
BZ: Yes I remember asking a couple of the bishops, "Isn't it supposed to be across the street?" And they said, "Yes but when he comes and he sees this place … (laughter) he'll want to see what's going on!"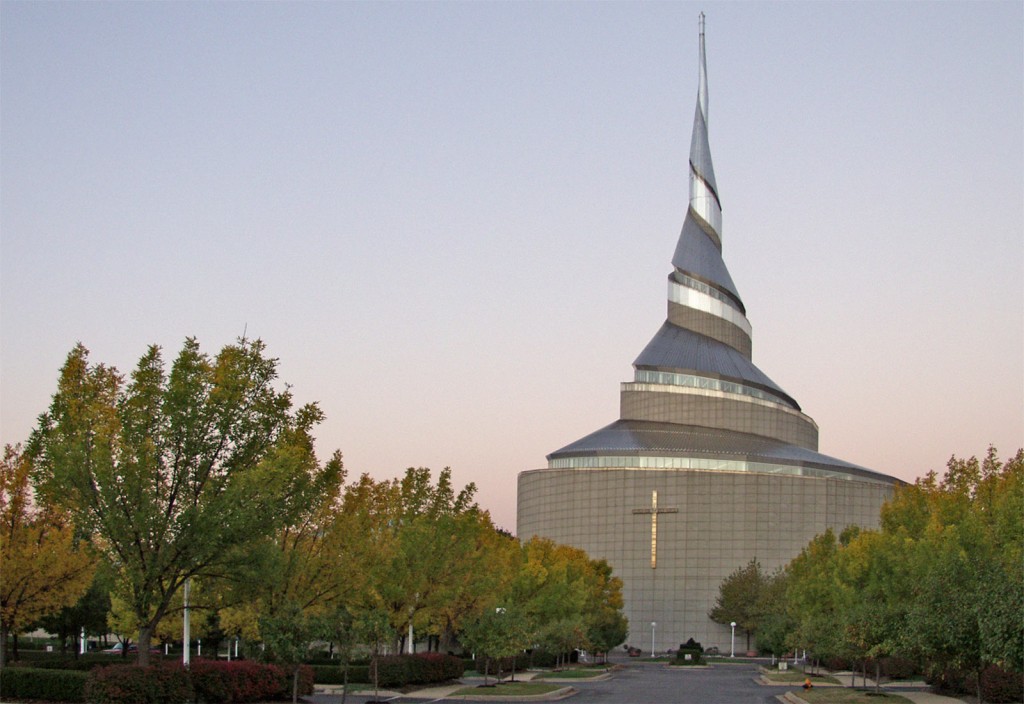 BZ:We applied for a patent on the roof system because there was this crazy shape and snow really snows here, so how do you keep the snow from getting stuck up there? So we created something called inverted seam to keep snow from getting stuck up there. It's one of the first recent patents and we applied because it's so unique.
CK: If I am correct, your company has 11 patents?
BZ: 11 patents and several in application.
CK: When we talked a lot in KC in recent years, one of the ways one measures entrepreneurship is the amount of patents created in a city. One of the things we're falling behind in both in Kansas City and the United States, is manufacturing patents.
CK: You were a consultant on the Disney Concert Hall. Right? And that was something also that was unique.
BZ: Yes. The concert hall is an Angel Hair surface. The concert hall was a great project early on because we were messing around trying to come up with something new.
CK: Disney plays a little bit of a role in what I'm about to ask you now — and I played a little bit as your banker in my previous career—there are moments of failure or moments of crisis with entrepreneurs. You've had a couple … I think part of the lesson there is that if you do really great work for people, they are going to want to keep you in business. I just want to talk a minute about what the nature of what the company is and does. You quote the HOfstadter book, that the laws of nature apply everywhere of uniformity, then we'd all be living in boxes and squares. But the fact is that nature throws us curveballs. And somehow your company has been able to play into that in some kind ofw way.
BZ: We have a passion for what we do but often the virtuosity to do it. (01:01:02)
CK: What's the future?
BZ: My hope is that we keep on pushing and pushing that envelope. I have always wanted the entrepreneurial spirit in the company which is hard to do when you are 116 years old. 118 now. I am more excited about the young people working for us and what they are doing.
CK: You certainly do exciting things. It's wonderful you're here in KC doing it. Thank you.