Why the world needs more Frank Gehry
Happy Birthday, Frank!
Today we're celebrating the 85th birthday of Frank O. Gehry, a longtime partner of A. Zahner Company and friend to CEO/President L. William Zahner.
In so many ways, Frank Gehry is the lightning rod for bold architectural innovation — not just in his designs and buildings, but also developing the behind-the-scenes processes, technologies, and methodologies for building architectural works of art. From his "Organization of the Artist," which ensures the integrity of an architect's design, to his Gehry Technologies and Digital Project, he has helped create an industry and culture of innovative architecture.
If you look at the unique designs being realized by young architects, you can thank Frank Gehry for helping to forge this new reality. While Gehry didn't have the opportunity to build his landmark designs until his late fifties, he did introduce a playful aesthetic for architecture, which has resulted in a collective desire for designs by emerging architects. Gehry and his contemporaries deserve a good deal of the credit for this paradigm shift.
More than paving the way for young architects, he's also paved the way for social good:
In 2013, Roman Mars broadcasted a podcast on the social responsibility of architects. Written into the American Institute of Architects (AIA) Ethics Code is a clause that "Members should uphold human rights in all their professional endeavors".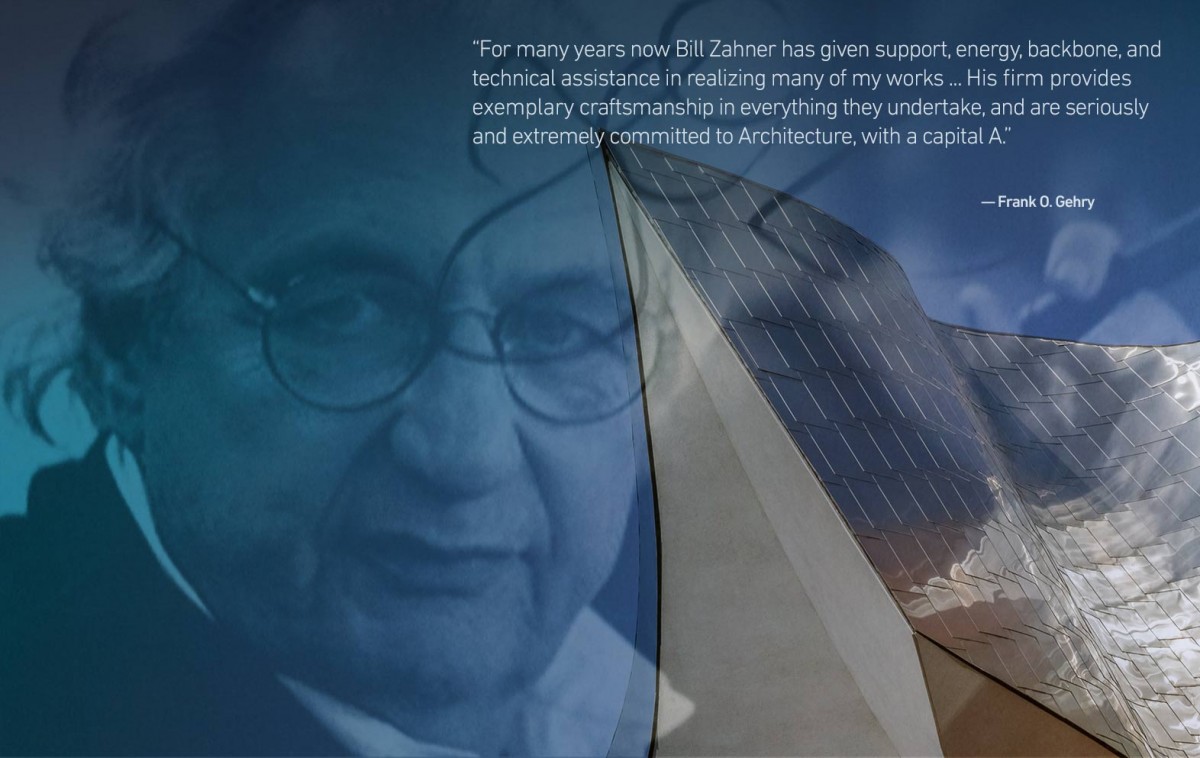 What many people don't know is that Frank Gehry has been a part of socially responsible architecture since his early beginnings as a young architect. An outspoken critic of building architecture for dictatorial regimes and abusers of human rights, when you look at Frank Gehry's body of work, you'll see integrity. There are many opportunities (even some locally) that he has walked away from because he didn't believe they were for the social good.
We need more of that.
Mr. Gehry's philosophy is uniquely his. He believes that American architecture should reflect the history of its democratic foundation, that we should celebrate the variances of architectural styles as truly American, the freedom of expression, and the boundary-pushing designs that make our culture great. Both his words and actions have sparked numerous dialogs about the collide of cultures and the future of our cities.
We are privileged to have a close relationship with Frank Gehry and the Sheet Metal Workers Association. The then lesser-known Frank Gehry met current CEO/President Bill Zahner, and the two worked to build an exhibit for the Sheet Metal Union's 100th Anniversary (pictured below).
Over the years we developed new technologies (ZEPPS, Design Assist) to facilitate the predictability, cost-control, and speed of realizing these complex structures.
Below is a small collection of unique projects at every scale, produced by A. Zahner Company for Frank Gehry and Partners.
Mr. Gehry's firm has repeatedly come back to us on a wide-range of complex projects over the years. It is an honor to play a role in producing these projects.
Happy Birthday, Frank.