The National September 11 Memorial Museum Pavilion opens this week. A look back at how the memorial was built.
Passive security in architecture can be broadly defined as "a design feature which deters threats while remaining largely invisible to its users."
Architectural applications which employ passive security can take many forms, from entire building annexes, to artfully perforated fence systems, to blockades disguised as art installations. What these security measures have in common is a strategy for reducing conspicuous security measures. It's the idea that threat deterrents don't have to be overtly visible. 
The benefit of this philosophy is an improvement in quality of life for a building's occupants. Learn more about passive security here, or view below an updated listing of projects completed by Zahner which feature this design philosophy. 
Today, for those most closely touched, the National September 11 Memorial Museum Pavilion opens and is dedicated at the World Trade Center site. Designed by Snohetta, the Museum is next to the massive twin pools designed by Michael Arad of Handel Architects — "Reflecting Absence." 
The Pavilion and Museum will open to the public for the first time on May 21, 2014. Snohetta describes the transition from the pools to the Museum Pavilion:
"As visitors cross the Plaza and approach the perimeter of the pools their gaze drops to watch the water cascading into the main pools, then flowing further over the second rim into the inner void. It is a physical reflection of the monumental absence created by the tragic events of September 11.

By contrast, Snøhetta's Pavilion reflects presence: the present moment, the day, the time, the weather, the trees, the surrounding buildings, and especially all the visitors at the Memorial. While they look down into the Memorial fountains to contemplate and pay respect to the past, they look straight ahead and up at the Pavilion to reflect on the present and the future, bravely and with hope."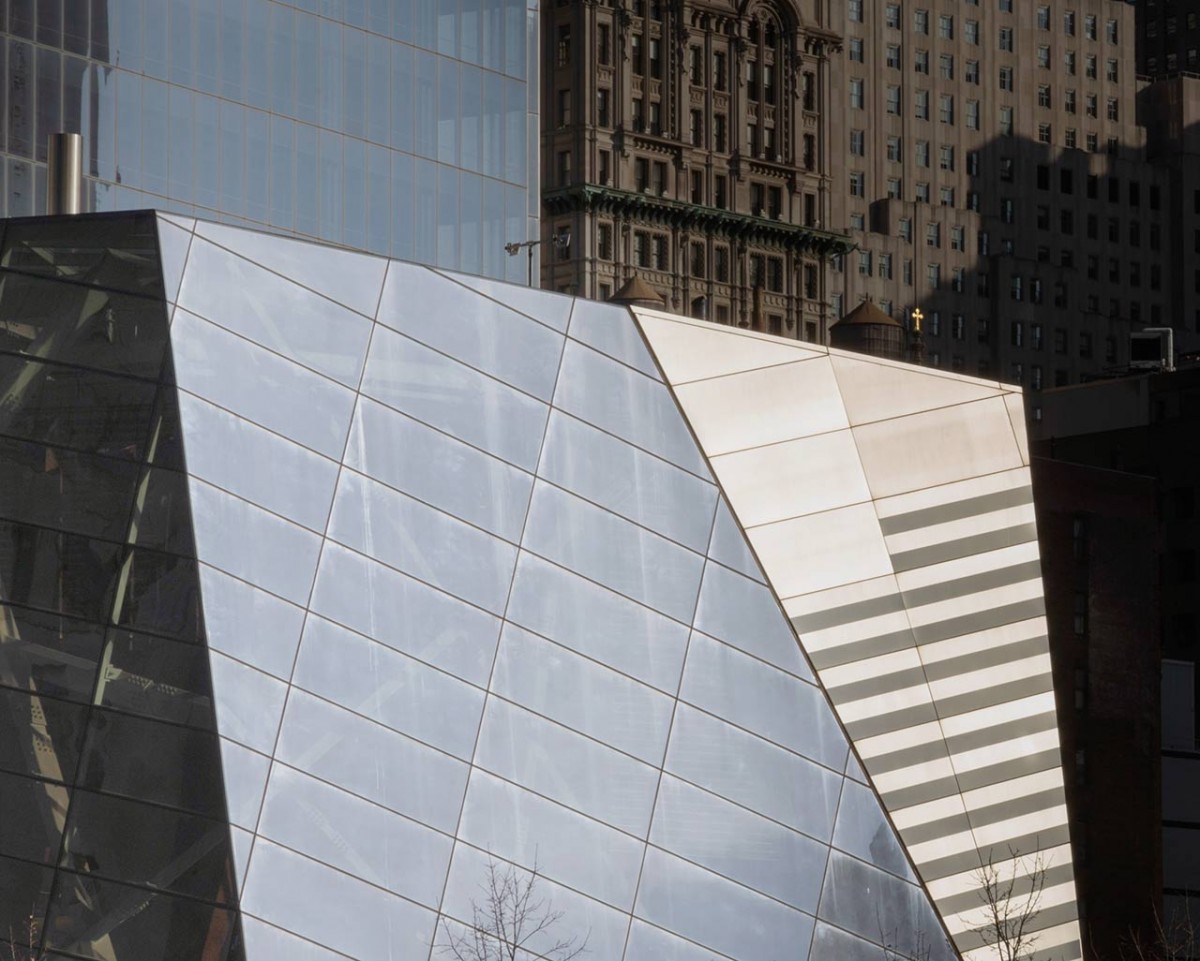 The Museum facade was entirely produced in Kansas City, Missouri. The surface was custom-designed and fabricated to achieve a completely unique unitized system. Striated panels alternate from reflective to muted, perforated to uniform, referencing the stars and stripes of the American Flag.
The pictures below show the process of building the Museum's facade in its various states. The Museum opens to the public May 21 2014. Learn more about the 9/11 Memorial and Museum at its official website.