A small team of ShopFloor R&D engineers at Zahner hacked a ten-year old welding robot arm to perform as a giant computer-controlled perforated louver press.
Update: Our friends at Virginia Tech reached out to Zahner to share some of the similar innovations for automated manufacture of shading systems. In 2010, Zahner worked with Virginia Tech on the Lumenhaus project whose laser-cut tabs were pushed by hand. In 2012, Nathan King and Jonathan Grinham published Automating Eclipsis, a research paper outlining a method for automation, as well as a proof of concept video of their method using a robot to automate the tabbed panel system.
In the Summer of 2015, Zahner's ShopFloor team was tasked with developing several methods for louvered perforations to create picotage-effects for architectural metal.
The process was initiated by Shokofeh Darbari, a Zahner Engineering intern currently in the Graduate Architecture program at Pennsylvania State University. Together with Zahner Design Engineer Andrew Manto, and Zahner Engineering intern Perry May from the University of Kansas, the team worked out a method to set perforated tabs on louvered screen wall facades.
The process is promising because it can be customized for a variety of custom-sized spacings, depths, panel sizes, and thicknesses of metal. It also uses a machine which until now was primarily used for programmed welding. It is the second computer-controlled technology that Zahner has developed for pushing precut-metal tabs (the first uses a computer controlled mill which is an in-demand tool for other processes at the Zahner shop).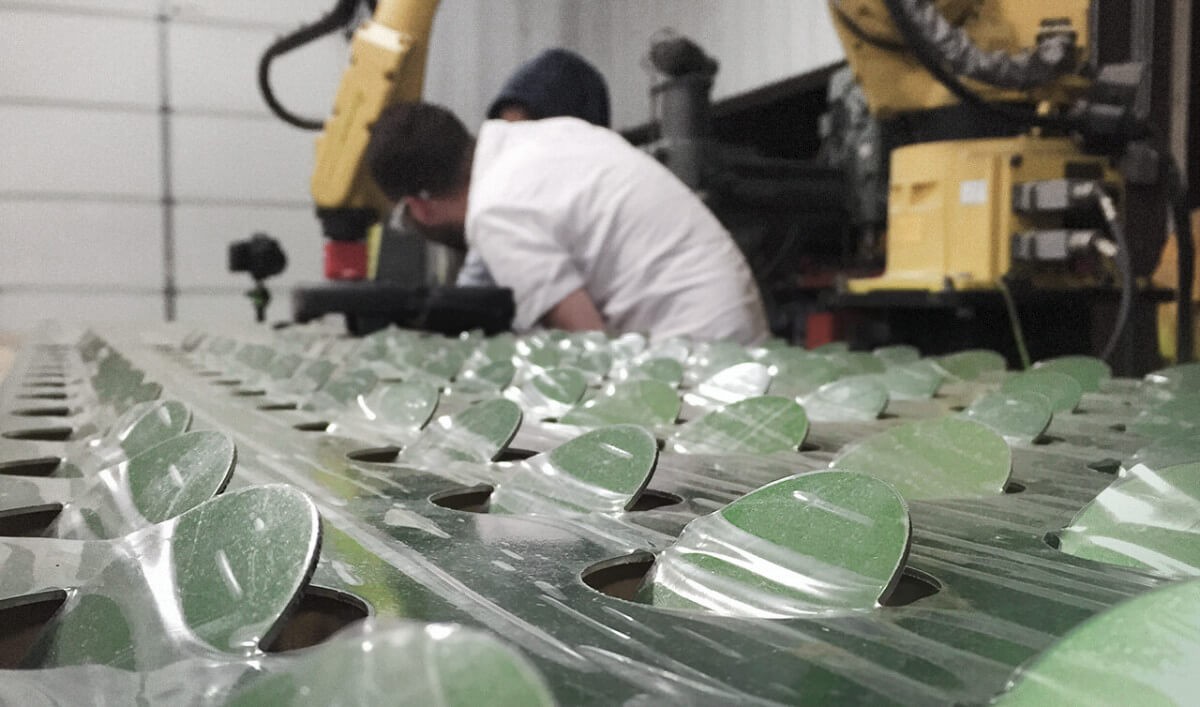 Developing a Method to Automate Folded-Tab Perforations
The concept builds upon a custom system Zahner developed with students at the Virginia Tech School of Architecture + Design to manufacture the Lumenhaus, a prefabricated concept housing system completed in 2010. Laser-cut-stainless steel tabs are folded into louvers, controlling the light entering the building.
In addition to its functional purpose of allowing airflow without harsh sunlight, the process also yields an extraordinary aesthetic effect. By varying the angles of the perforated tabs, the designer is able to achieve an optically brighter "pixel" than would occur with standard perforation. A more typical "flat" facade with custom perforations doesn't yield strong contrast when compared to this method of protruding tabs which are able to capture more dramatic lighting. The result is an image or pattern which has an enhanced tonal range in a variety of lighting conditions.
Part of what interns at Zahner learn is how to engineer custom facades for efficient and economical manufacturing for rapid installation. Interns receive competitive wages at Zahner and bring a fresh perspective, useful for exploring new technologies and methodologies.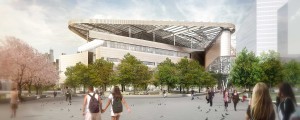 Darbari applied for a Zahner internship after attending a Penn State guest lecture by Anthony Birchler, Zahner's Vice President of Engineering/Sales. She was hired as a Summer intern in 2015 and worked with the ShopFloor team at Zahner. There, Darbari pitched the idea of temporarily repurposing the Fanuc ArcMate welding arm.
To create the new system, the team retrofitted a custom 3D-printed "head" onto to the robot arm. The arm was then reprogrammed to apply pressure to the precut tabs, pushing each of the perforated tabs outward.
Zahner is working with architects at Morphosis whose design for Cornell Tech Bloomberg Center is being installed in New York City. This use of custom-louvered architectural screen walls functions in much the same way that many of the larger-scaled projects that Morphosis has designed, such as Gates Hall in Ithaca, and the Emerson College in Los Angeles, both of which were completed using Zahner's engineering, fabrication, and installers.
Adding louvers to the perforated panels builds on Zahner's patented ZIRA technology that translates a user-supplied image or pattern across panels. ZIRA is one of the major technologies behind ShopFloor apps such as ImageWall.