Zahner Explores Ceramics at NCECA
This year, Zahner engineer Jo Kamm will be exploring digital fabrication and showing the results at the national ceramics symposium in Downtown KC.
Jo Kamm, project engineer and R&D specialist, is exploring capabilities of pattern making with Zahner processes on terra cotta tiles. This week, Kamm will be showing some of his findings at the 50th Anniversary of the National Council on Education for the Ceramic Arts (NCECA) Conference. For the first time in nearly 15 years, Kansas City is hosting this annual ceramic symposium, and we're proud to have a Zahner engineer participate.
Exploring Digital Fabrication with Ceramics
Working with both glazed and raw-fired terra cotta, Kamm has developed a series of motifs using digital processes. The methods include waterjet-cutting and laser-cutting of the source material.
Kamm produced several tests at various tolerances and depths, creating a variety of effects on the terra cotta tiles. He then manufactured a design based on those limitations, which will be on display this week in downtown Kansas City.
About the Process
In 2010 Kamm visited Istanbul, and was inspired by the complex Islamic patterns which adorn the temples, art, and architecture. The relationship to mathematical geometries led Kamm to look at how these patterns could be generated automatically using scripts and programming, and he began research in November of 2015.
The waterjet-cutting was primarily used to cut through the tiles, and the laser was used primarily to etch the white glaze at various depths. The outcome is a series of overlapping tiles which will be on display through March 19 at the Kansas City Convention Center at Bartle Hall.
Zahner Relationship to Ceramic and Other Materials
In the architecture industry, Zahner is well-known for manufacturing complex building enclosures on projects around the world. This includes creating wild dual-curved forms like the Petersen Automotive Museum, to rigorously geometric forms like the Museum of Contemporary art in Cleveland.
What connects many of these projects is the complex metal surfaces which are developed by Zahner, but not all of Zahner's work is metal. In fact a growing number of projects explore glass, fiber, solar panels, and even ceramic, such as the white terra cotta roof of the Sidra Medical Center in Doha, Qatar.
About the Engineer
Kamm began working at Zahner in September 2015 as a paid intern in the R&D group, and was welcomed in February, 2016 as a full-time employee. Kamm brings a proficiency in 3D modeling, 3D printing and fabrication. He graduated from Alfred University with a Master of Fine Arts degree after receiving a BFA from the Kansas City Art Institute. Jo has been a self-employed artist, designer, consultant, fabricator and an adjunct professor at KCAI. In addition to exploring ceramics, Kamm also proves invaluable as part of Zahner's operational team. He is currently working with a team of engineers on the Chrysalis Amphitheater in Columbia, Maryland.
Kamm is part of a group presenting a clay fab lab at NCECA. Each of the members of the group use digital or unusual technologies to manufacture their ceramic work. Kamm will give an in depth presentation of his process on Friday March 18, at the Kansas City Convention Center. There he will detail his findings with both the fabrication as well as the automation processes.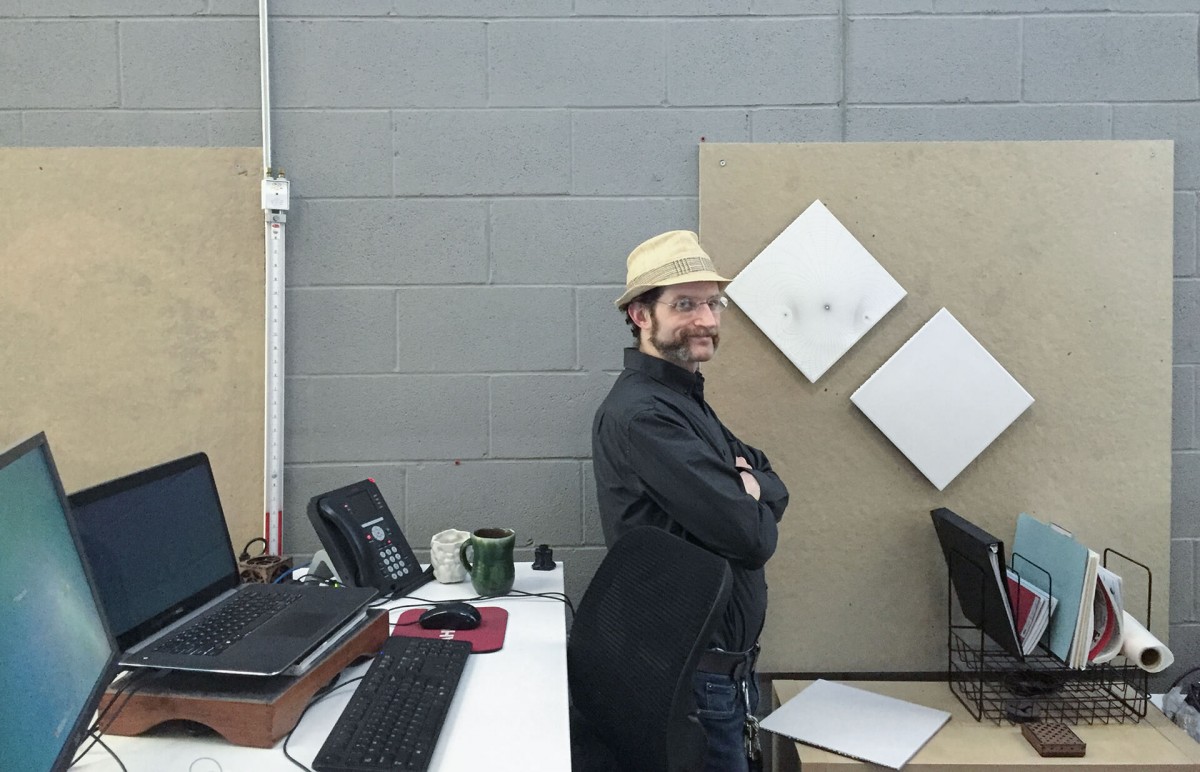 About NCECA 2016, 50th ANNUAL CONFERENCE
NCECA's annual conference features dozens of presenters, demonstrations networking opportunities and exhibitions over three and a half days each spring, each year in a different US city. NCECA's Board of Directors and special appointees review hundreds of proposals for sessions and exhibitions gathered through open calls for submissions. Sponsored exhibitions include the NCECA Biennial, the NCECA Invitational and the National Student Juried Exhibition. In conjunction with the NCECA-sponsored exhibitions the organization also reviews, sites and promotes nearly 100 concurrent exhibitions in the host region surrounding the annual conference.

The 50th Anniversary Conference of the National Council on Education for the Ceramic Arts will explore the personal, social and aesthetic forces that animate creative work with elemental materials, methods and ideas in the midst of the information age.
Kansas City, Missouri, the geographical epicenter of the continental US, is an urban nexus of fountains, bebop and technological innovation. Its horizon connects farmland with cultural complexity. An amalgam of global traditions and local vision, the region's legacy of great art institutions, patrons, artists and educators has long held an important role in the development of North American ceramic arts. Makers, Mentors and Milestones will highlight issues of contemporary practice, celebrate the impact of influential figures and movements that have shaped the field, and create opportunity to envision collectively what lies ahead.
Learn more at nceca.net