Why competitions should be transparent
The glass and steel buildings that dominate contemporary skylines owe their silhouettes to a losing entry in a design competition that took place almost 100 years ago. How does a losing entry go on to influence an entire industry of artists and designers? What can we learn from this?
Addendum: As a current employee of A. Zahner Company, I am very ineligible for the Zahner Biennial Competition, and will not be submitting an entry (employees and family of either Zahner or KCAI are not eligible for the competition. Graduates and students of KCAI can and should apply by December 15, 2015 Submissions are closed, but you can cast your vote and help us chose the winning entry).
---
Every other year, Zahner hosts an art competition for the Kansas City Art Institute (KCAI), donating engineering and fabrication services to the school for the winning entry. We then deliver the artwork to KCAI, where the sculpture is auctioned off at the school's biennial art auction. All of the proceeds go to benefit future student scholarships.
For the Sixth Biennial Art Competition for KCAI, Zahner took inspiration from a recent Zahner collaborator; Farshid Moussavi of London-based firm FMA (Farshi Moussavi Architects). Moussavi has been a powerful voice in contemporary architectural critique, and her series of writings for Architectural Review have been praised in many architecture circles.
In one such piece, which is excerpted below, she writes about the need for more transparent competitions in the United States. Moussavi makes the argument that when a competition is open, its process transparent, and its results public, everyone benefits — most of all, the competition entries that don't win.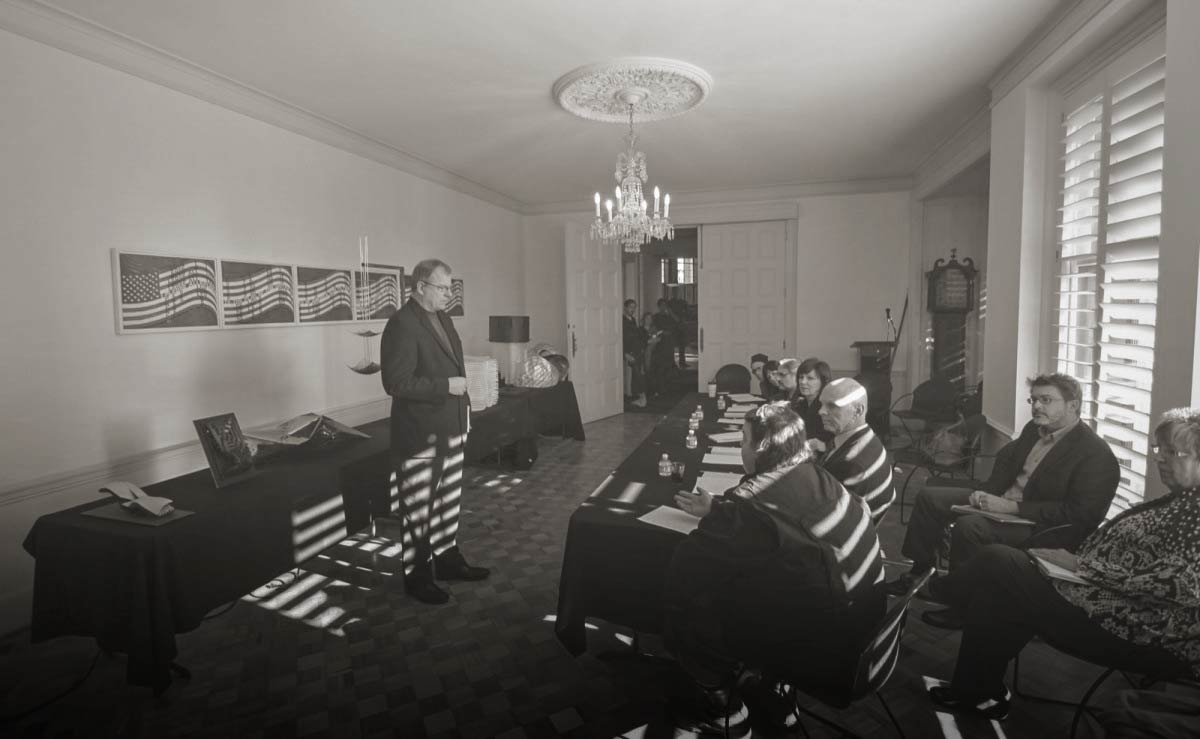 "In 1921 a more conservative design triumphed over Mies van der Rohe's skyscraper proposal for Berlin's Friedrichstrasse. But his depiction of a glacial skyscraper contained the unprecedented idea that a steel skeleton could free the exterior walls from their loadbearing function. His vision of a glass curtain wall has gone on to inspire legions of architects all over the world.
This is incredible. Our city's glass and steel skylines that we all know and love (or hate) are the result of a competition entry that didn't win. If that 1921 competition had been any more secretive, the architecture of our cities might look different today.
"The real argument for undertaking competitions is exploration: of those ways − as yet-unknown − that maintain architecture as a creative, rather than stagnating, field. But, like in competitive sport, it is best when spectators have an open view. In many parts of Europe and Japan, there is a long-standing culture of open, public competitions with all entries being published. But in the UK and the USA, open, public competitions are rare, and the limited type of competition (or 'selection process') is increasingly used by the private sector. In these cases, the entries − and even the competitors' names − are almost always kept secret."
This made us look at our previous competitions, and ask ourselves how maintaining a private competition benefits the artists who don't win. What does it do for the school, for the city, and for Zahner to keep the whole process under wraps? How could we showcase not just the winning entries, but rather the entire breadth of great work that was submitted?
It is in this spirit that we decided to do things differently this time around. For the Zahner Sixth Biennial KCAI Competition, we're taking several big steps towards a more open competition. The biggest changes to the competition are:
While the final selection process will still be selected by a panel of judges and manufacturing experts, the public will get to see documentation of this process, and will be able to weigh in on the decisions getting made in an open forum.
Opening the competition to alumni gives current students a way of connecting to the larger community that they're part of. Students graduating in 2015, 2016, and 2017 can see how students who graduated in 1998, 1978, and maybe even 1968 see how the different generations approach design.
By making the Sixth Biennial Art Competition transparent, and opening it to a wider body of KCAI scholars, Zahner can show to Kansas City and beyond the innovative minds and collective muscle of the KCAI art community.
---
If you are a Kansas City Art Institute student or alumni, sign up for the 2014-2015 Competition. Entries are due December 15th, by 11:59PM.